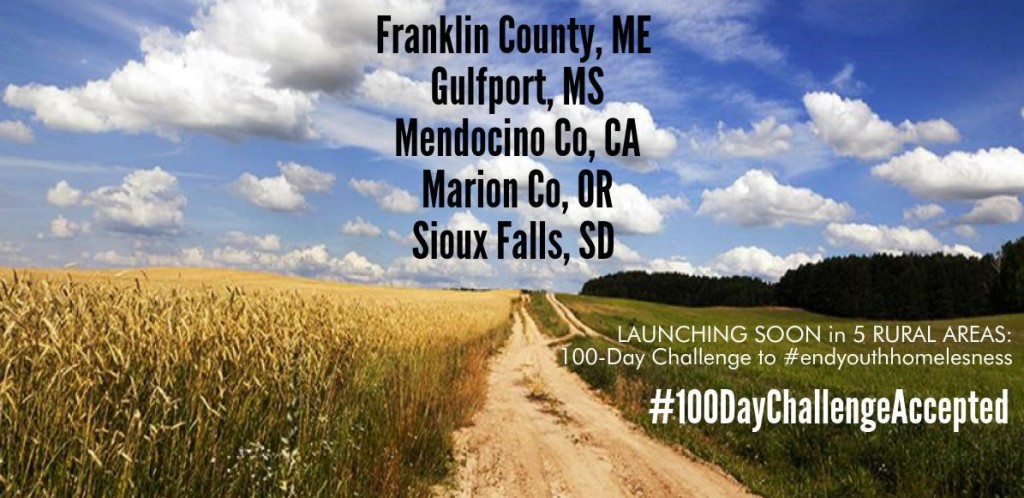 New Beginnings is pleased to announce that Franklin County, ME has been chosen as one of only five sites nationally to join the 100-Day Challenge on Youth Homelessness. The 100-Day Challenges are a national movement to help communities focus and work together to make rapid change around a particular issue.
As a leader in providing services to homeless youth and their families in Maine for 37 years, including providing youth outreach services and housing for homeless youth in Franklin County since 1999, New Beginnings applied to lead the effort for Maine to pilot the challenge in Franklin County.
"We're excited to lead this effort to test strategies that could have positive impacts for homeless youth in Maine and rural areas across the country," says New Beginnings' Executive Director Chris Bicknell.
A coalition is building now across Franklin County; this leadership team held an initial meeting to set the 100-day launch goals in the end of October 2017. That goal is to provide access to safety 24 hours a day for all homeless youth in Franklin County within 100 days of the launch (date TBD – coming soon this November).
New Beginnings will share challenge results statewide and nationally, with technical assistance from A Way Home America, Rapid Results Institute, HomeBase, and U.S. Housing & Urban Development. Many key Franklin County leaders have already responded to the call-to-action.
Interested in joining the challenge?
Contact Chris Bicknell at 207-795-4077.