New Beginnings celebrates 35 years, honors Dot Larrabee and Ann Geiger
On Wednesday, April 29, 2015 nearly 200 staff, volunteers, and supporters of New Beginnings gathered in Lewiston to celebrate the 35th anniversary of the opening of the agency's emergency shelter for youth, and to dedicate the agency's new facility at 134 College Street as "The Ann Geiger Center for New Beginnings."  The new building includes an expanded Youth Drop-In Center which opened on Friday, May 1, 2015 to serve youth at risk of homelessness.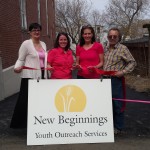 In honor of the 35th anniversary, the New Beginnings Board of Directors awarded one of the agency's founders, Dorothy "Dot" Larrabee, a lifetime service award in recognition of her dedication to New Beginnings and her lifetime of service to children and teens in need.
Dot, who is nearly 93 and lives in Auburn, was the first masters-level social worker in Maine who worked in the state child welfare department until her retirement in the late 1970's.  She was among the group of community volunteers that established New Beginnings' emergency youth shelter in Greene, ME, in 1980; the program moved to its current location at 491 Main Street in Lewiston in 1985.
Dot served on the New Beginnings' Board of Directors for more than 20 years, and remains a Board Advisor to this day.  In 2000 she helped create a scholarship fund to provide "seed money for dreams" for New Beginnings' youth to use to pursue their educational goals.  The endowment was subsequently named the "The Dot Larrabee Youth Development Fund" in her honor.
As one of the agency's first employees 35 years ago, New Beginnings' Community Service Director Mary Ruchinskas described for the attendees how Dot taught her to approach social work from a place of deep respect and practicality, and that Mary has done her best to pass those lessons on to the more than 40 employees that now work for New Beginnings.  Mary described that, rather than "another plaque that Dot would not want," Mrs. Larrabee's service award will take the form of a piece of art being commissioned to hang in the new education lab at the center  where Dot's legacy can continue to inspire future generations of students.
The program concluded with the dedication of the building in honor of Ann Geiger, matriarch of the Geiger family who passed away at age 92 last year. The Geiger family chose to name the new center, which will be used to expand New Beginnings' programs for youth at risk of homelessness, to commemorate the ways that Ann Geiger spent her life quietly helping those in need.
Peter Geiger, editor of the Farmer's Almanac and co-owner of the Geiger family business, shared stories with the crowd about his mother Ann's life.  Geiger described how his extremely shy mother Ann grew up as an isolated only child and spent her adulthood in Lewiston, raising her children in the limelight of her flamboyant businessman husband, Ray Geiger.   "My mother was so humble – she never would have chosen to put her own name up on a building," said Geiger, "But we're doing it anyway. This is our family's way of permanently honoring how she was always giving to those less fortunate – just like New Beginnings is always helping young people in need."
Senator Susan Collins sent her congratulations via video, commenting that "There is no better way to commemorate Ann Geiger's legacy of giving through a lifetime of compassion. Her family honors her values by joining so many others to make the new 'Ann Geiger Center for New Beginnings' a reality. Their generosity has helped ensure many more years of exceptional service to those in need. The Geiger family deserves special recognition for honoring their extraordinary mother in such a significant way … I know that the work of this center to help vulnerable teens would bring a smile to her face."
The gift from the Geiger family has brought New Beginnings within $100,000.00 of the $1.25 million goal for the Ann Geiger Center renovation campaign.  On a radio show the morning following the event, Peter Geiger announced that he will match any new gifts made to New Beginnings in the month of May, up to $20,000. Community members interested in learning more or contributing can go online to www.newbeginmaine.org/building-campaign or call New Beginnings Development Director Rachel Spencer-Reed at 207-795-4077.