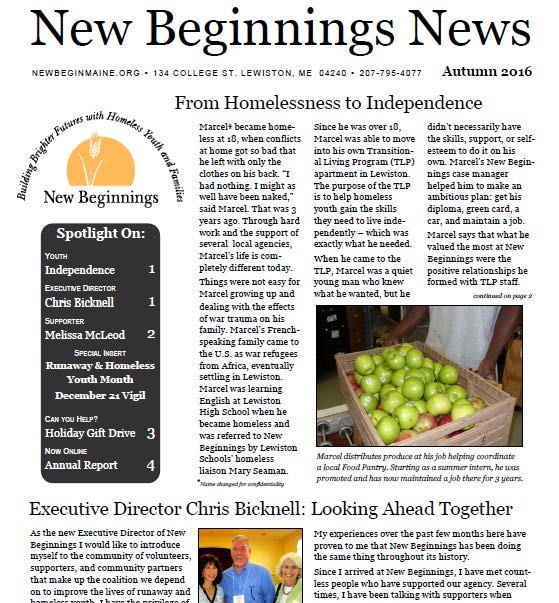 We hope you'll enjoy the Autumn 2016 New Beginnings News, which includes: a cover story about a refugee youth's journey from homelessness to independence; a special message from new Executive Director Chris Bicknell; supporter spotlight on Board member Melissa McLeod; special insert about November's Runaway and Homeless Youth Month, and more!
Important highlights:
November is Runaway & Homeless Youth (RHY) Prevention Month: Please share our Tips to Raise Awareness of RHY Month Flyer (PDF) from this newsletter, including putting up green lights at your home or business to show support for homeless youth! Wear green and post your photo on social media on November 9th, or invite a speaker from New Beginnings to come talk with your group or organization this month. NEW this year: If your business or organization contacts us in the next month to make a contribution in honor of homeless youth month, we will highlight your business with a special thank-you post on the New Beginnings' Facebook page on #GivingTuesday November 29, 2016.
In fact, we'd love for any friends of New Beginnings to help kick off our annual fund drive and make a difference for homeless youth with an online donation this #GivingTuesday – November 29, 2016! Giving Tuesday is an international movement to increase awareness of charities the Tuesday after Thanksgiving, and is a great opportunity for anyone to give time, goods, or funds back to your own community.
Holiday Gift Drive 2016 – Another way to give back: make the holidays brighter for the youth we serve by collecting wish list items for our holiday drive! New Beginnings' annual holiday wish list is online now. Contributions our supporters make this time of year also help youth get the essential supplies they need all year 'round. Call 207-795-4077 or email info@newbeginmaine.org to sign up today!