We are in the planning stages for a Phase 2 campaign to complete the renovations to the Anne Geiger Center for New Beginnings, and we'll be seeking business and philanthropic partners interested in investing in upgrades to Rowe Hall (the gymnasium and performance stage) soon!
We are currently seeking in-kind contributions of design, material, and labor for landscaping, construction, and exterior façade improvements to the building.
For more information, or to request a tour, please contact Rachel Spencer-Reed or Chris Bicknell at 207-795-4077.
---
Information & Materials from our Phase 1 Campaign:
Success! With your help, New Beginnings reached our $1.25 million initial campaign goal by December 31, 2015! We couldn't have done it without the dedication of hundreds of supporters and volunteers!
Please visit our Facebook page for photos of our groundbreaking event and dedication celebration!
Campaign for a New Beginning      
For 35 years, New Beginnings has improved the lives of homeless youth and families in crisis, and provided an essential safety net for adolescents in Maine.  
We believe

every

young person deserves safety, respect, and the chance to grow into a healthy future.

The Need To Expand
New Beginnings opened the Outreach Drop-In Center in Lewiston, ME in 1997 as a safe place to engage youth at risk of homelessness. Youth get their basic needs met with hygiene supplies, a hot shower, food, and a place to stay warm and dry. The 1,200 square foot storefront is now too small for all the multiple uses, activities, and privacy needs that the clientele requires – often accommodating 40 youth daily in a space designed for twenty.
The center is bustling with activities competing for limited space: a single computer and phone to use for homework, job search, and communicating with family; interactions between teen parents and their toddlers; youth receiving mail and checking email/phone messages; recreation activities; and conversations between staff and youth. The exposed outdoor staircase at the rear of the building leads to the upper level with one bathroom where youth can shower, a tiny kitchen where 125 meals are prepared each week, staff offices, and one small room used for group meetings and support groups. Despite the limits of the space, 85% of homeless youth in the program successfully found housing last year.
A new beginning through a new building:

In late 2011, New Beginnings purchased a 17,000 square foot former community center at 134 College Street in Lewiston, ME.  With your help, we are bringing the building back to life as a safe haven for vulnerable youth, and a permanent home for our Youth Drop-In Center, Outreach Program, agency administrative offices, and increased educational programming.
Campaign for a New Beginning:  $1,250,000 goal

:
Renovation project includes roof replacement, relocating the outreach program and administrative offices, expanding the Youth Drop-In Center and educational support programs, upgrading the heating and electrical systems, installing an elevator, and updating interiors, entrances, and first floor classrooms for increased community collaboration.
Frequently Asked Questions:
How will the building benefit the community?  
The new Ann Geiger Center at 134 College Street has a rich history – the building was formerly the Jewish Community Center for Lewiston and Auburn.  New Beginnings is honored to revive that history as a place where children, youth, and families came together to find support, learn, play, and celebrate. The renovation will help more than 400 at-risk youth each year to find stable housing, improve their education, learn new skills, and find jobs.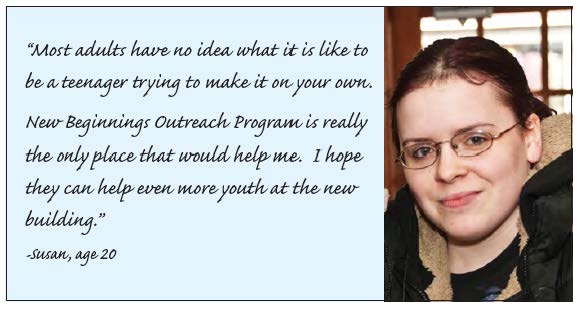 The renovation will also help to revitalize the neighborhood, connect our programs with Bates College, and allow for community use of the classrooms, meeting spaces, and gymnasium. 
How much do you need to raise?
The campaign total is $1.25 million and includes replacing the roof; retrofitting and updating the heating and electrical systems; renovating the upper and lower levels to expand the Youth Drop-In Center and relocate New Beginnings' administrative offices; installing an elevator; and upgrading the street-level classrooms for New Beginnings' increased educational programs and community collaborations. The Board of Directors has moved forward with this building campaign and has already secured nearly $1,200,000 through contributions from generous businesses, individuals, foundations, and pledges from our staff, Board of Directors, and Advisory Board.
What is the timeline?
Campaign Fundraising launched in 2013, and the Board is currently seeking pledges and gifts toward the remaining $50,000 by the end of 2015. Renovations began in 2013 with the installation of a new roof. The gymnasium floor was also refinished in 2013, with financial support from the Bates Dance Festival which uses the space each summer. Heating system upgrades and the Drop-In Center renovation began at the end of 2014, and a groundbreaking ceremony was held in February 2015. The building dedication took place at New Beginnings' 35th Anniversary Celebration on April 29, 2015, and the building was officially named the "Ann Geiger Center for New Beginnings."  The Outreach Drop-In Center relocated to the new space as of May 2015, and New Beginnings' Administrative offices moved to the Geiger Center over the summer.  Remaining renovations to the exterior entrances, signage, parking, and new education center will be completed in fall 2015.  
New Beginnings is actively seeking in-kind contributions of design, material, and labor for landscaping improvements.
New Beginnings will be seeking business and philanthropic partners interested in investing in upgrades to the gymnasium and stage in future years.
For more information, or to request an appointment, campaign materials, or a tour with a member of our campaign team, please contact Development Director Rachel Spencer-Reed at 207-795-4077.