Want to make a difference?  Join our staff!
We are hiring talented and enthusiastic people who are committed to making a difference for homeless youth in Maine. For over 35 years, New Beginnings has helped children, teens, and young adults find safety, build connections, and access the opportunities for growth that they need to thrive.  Our comprehensive services prevent young people from becoming homeless, support struggling families, and help vulnerable youth grow into stable and healthy adults.
We value our dedicated employees, who create the caring and trusting relationships that are at the heart of our work and that bring about change. Our direct care staff play a critical role in the lives of the youth we serve. Putting New Beginnings' mission into action is both challenging and rewarding, and we deeply appreciate how hard our employees work to help the youth in our programs become stable and healthy adults.

What makes New Beginnings unique?
New Beginnings' mix of funding sources allows us to serve youth in need, without charging for our services. Unlike many other service providers, our case managers, clinicians, and youth workers can meet clients' needs without being "tied to the clock" or limiting their engagement to Medicaid-eligible appointments. Our staff work in a casual and respectful environment where they do what it takes to creatively support each youth or family as they work toward their goals.
New Beginnings' innovative model of care is rooted in positive youth development and respect for the diverse stories and strengths of the people we serve. We utilize cutting-edge approaches and services that provide results and improve lives. New Beginnings provides extensive orientation and training to all new staff, as well as ongoing professional development over the course of their career with New Beginnings – including access to educational benefits such as tuition reimbursement for pursuing degrees or certifications related to their job.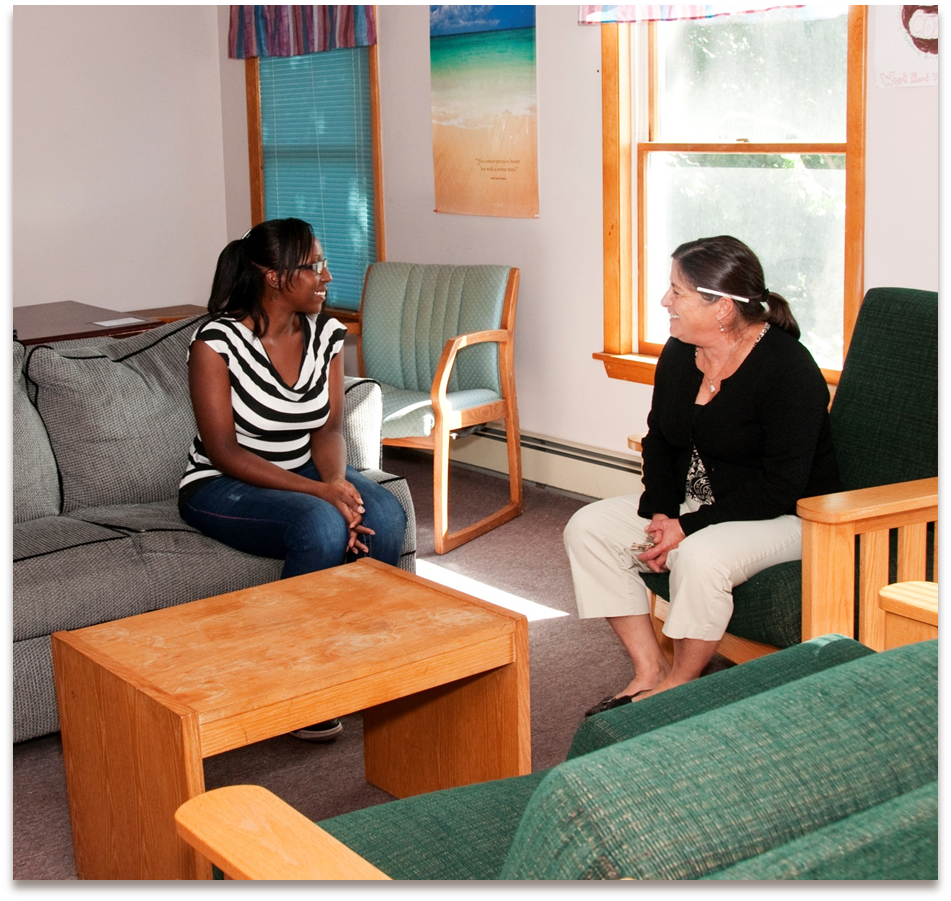 Our benefit package reflects our commitment to supporting our employees. We pay competitive wages, and all full-time employees are eligible for 100% health insurance, generous paid time off, agency contributions to a retirement account, and many other benefits with a monetary value averaging over $10,000 per employee.
Now is the time to have an impact.
We are in the midst of a period of positive change. Our agency headquarters and expanded Youth Drop-in Center are located in the heart of Lewiston, with program sites in Androscoggin, Kennebec, and Franklin counties. Our new Executive Director, Board, and experienced management team are poised to develop and implement a new strategic plan that will increase our capacity and bring our services to nine counties in Maine.
Joining New Beginnings now is an opportunity to be a part of planning and growth. We have a long history of providing innovative and nationally-recognized services for youth at risk for homelessness – including housing, family mediation, street outreach, and the only 24-hour emergency youth shelter in the state.
We're looking for leaders with creative problem solving skills who are motivated to try new strategies. As part of our team, you can help more young people achieve results and become healthy and successful adults. New Beginnings is seeking candidates who represent the diversity of the communities we serve with the vision and ambition to strengthen and expand our programs and agency. Join us!
If you care about building a brighter future with vulnerable youth and families in Maine, we encourage you to take a look at our current job openings below. We look forward to hearing from you!
---
New Beginnings is an Equal Opportunity Employer.
We encourage applications from people of color; lesbian, gay, bisexual and trans persons; and those with personal or professional experience with homelessness and/or high-poverty communities. 
Download New Beginnings' Employment Application (MS Word 45KB).
---
OPEN POSITIONS – FULL TIME:
Benefits: We offer competitive wages with full benefits: health, dental, vision, life, disability, long-term care, 403b retirement plan – and 33 days/year of earned benefit time to start. 
Scroll Down to see postings for the below FT positions:
---
Accountant
Description: Utilizes accounting and Excel spreadsheet software to accurately maintain all general ledger accounts, prepare payroll, process accounts payable, reconcile bank statements, conduct monthly and year-end closing procedures, and prepare and analyze monthly financial statements using generally accepted accounting principles.  This position deals with high level confidential matters that require a superior degree of professionalism in an extremely sensitive environment.  This position requires the ability to self-direct and complete projects as assigned.
Requirements: A minimum of two years of experience working in a financial environment with payroll experience. Non profit experience helpful. Bachelor's degree in Accounting with 2 years experience.
Contact Information:
Janet O'Connor, Financial Director, New Beginnings 134 College Street, Lewiston, Maine 04240
Fax: 207-795-4080
Apply by email: janet@newbeginmaine.org
---
Youth Worker
Description: New Beginnings Outreach Program in downtown Lewiston offers a wide range of services for youth ages 14-24 who are homeless or at risk of homelessness. Youth Worker staffs a drop-in center for street youth. Plans and conducts recreational, cultural, social, and youth development activities in conjunction with youth. Manages the drop-in center. Provides crisis intervention, information and referral, and basic needs for adolescents who are homeless or at high risk of becoming homeless. Performs street outreach services to locate youth who are disconnected from traditional services. Some early evening hours are required.
Requirements: This position requires the ability to create trusting relationships with homeless youth in a non-traditional setting that promotes healthy youth development. Ability to work independently and as a member of a team; creativity, energy, and flexibility are essential. Valid driver's license and good driving record required.  EOE. We value a diverse staff.
Bachelor's degree required, preferably in a related field. Experience working with youth, preferably in a non-residential setting, may be substituted year-for-year for up to two years of the educational requirement. Completion of the Maine Child and Youth Care Certificate through UMA can also be used to meet the minimum qualifications of this position.
Contact Information:
Christopher Balderas, Outreach Program Director, New Beginnings 134 College Street, Lewiston, Maine 04240
Fax: 207-795-4098
Apply by email: topher@newbeginmaine.org 
---
OPEN POSITIONS – PART TIME:
---
Part-Time Relief Staff- Transitional Living Program
Description: Duties include direct supervision of youth, case management, activity coordination, behavior management, light paperwork, clean and light maintenance of public areas of building.  Schedule involves some evenings, overnights and weekend hours.
Requirements: A mature adult with experience with youth in crisis or a residential setting preferred. High school diploma or equivalency is required.
Contact Information:
Mike Suter, Program Coordinator, New Beginnings 597 Main Street, Lewiston, Maine 04240
Fax: 207-795-4076
Apply by email: denise@newbeginmaine.org
---
Relief Staff
Substitute positions are often available in our residential programs.
Email info@newbeginmaine.org to find our about current openings or to submit your resume for consideration.
---
New Beginnings is an Equal Opportunity Employer.
We encourage applications from people of color; lesbian, gay, bisexual and trans persons; and those with personal or professional experience with homelessness and/or high-poverty communities.
Download the New Beginnings Job Application here:  NB Application for employment (MS Word 45KB)