Helping to Prevent Homelessness & Suicide: Strengthening Families to Reduce Risk and Increase support for LGBT Youth
Wednesday May 4, 2016 at Bates College in Lewiston
New Beginnings, Inc.
will be hosting nationally-known researcher Dr. Caitlin Ryan of
Family Acceptance Project
to train our staff in working with parents and families of LGBT youth who are at disproportionate risk for suicide and homelessness. Dr. Ryan and her public health team have developed research-based family approaches to reduce suicide risk among gay, lesbian, bisexual, and transgender or gender non-conforming youth, and support positive youth development for teens in the context of their family, faith, and culture.
Dr. Ryan will facilitate a FREE dinner workshop for clergy and religious leaders on Wednesday May 4th: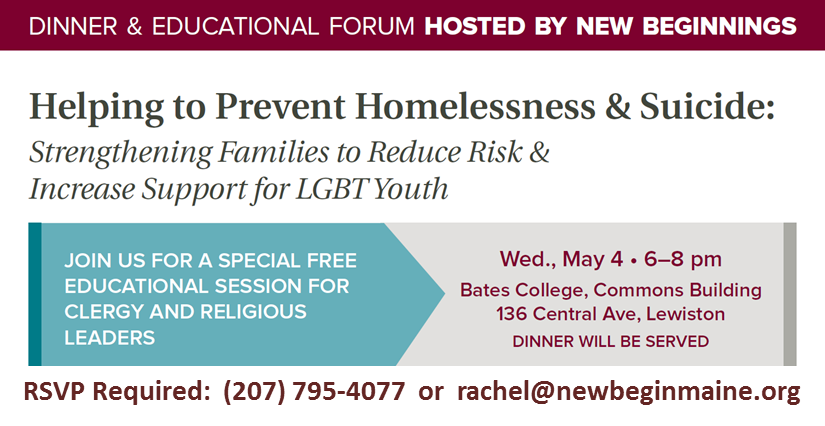 Attendees will learn data-supported strategies to help reduce youth's suicide risk in their congregations and faith communities, and work to increase connectedness for the religious families they serve with a child who may be questioning their sexual or gender identity. Participants will have an opportunity to talk about applying this work to inform their ministries, and view & discuss a short award-winning intervention film.
Any Maine clergy, chaplains, and lay religious leaders – particularly those involved in pastoral care with youth or families – are invited to attend. RSVP is required, and space is limited. We would like to see a diverse group of leaders from many faiths are represented – from Lewiston-Auburn and/or throughout Maine.
RSVP to Rachel Spencer-Reed by calling 207-795-4077 or via email to rachel(at)newbeginmaine(dot)org.
---
ABOUT THE SPEAKER
:
Dr. Caitlin Ryan is a clinical social worker who has worked on LGBT health and mental health for 40 years, with a focus on adolescents. As the Director of the university-based Family Acceptance Project, she has developed the first research-based family support approach to prevent major health risks and to increase family support and wellness for LGBT young people. Her work has been recognized by professional and community groups in the fields of counseling, medicine, nursing, psychology and social work. She has trained more than 80,000 providers, families, religious leaders and policymakers on this work across the U.S. and in other countries and works with religious leaders and pastoral counselors from a wide range of religious backgrounds in carrying out this work.