LGBTQ Training will be held on December 7th, 2017 in Auburn, ME
8:30AM to 4:00PM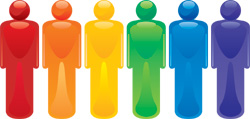 LGBTQ youth are a significant percentage of the runaway/homeless youth population, and they face additional challenges in accessing services. Eighty-six percent of gay and transgender youth report being verbally harassed at school and 22 percent have been physically assaulted because of their sexual orientation or gender identity. Schools and youth-serving agencies that are welcoming, supportive, and safe can play a unique role in the lives of these young people.
"Creating Safety of LGBTQ Youth" is designed for staff of schools, shelters, residential programs, drop-in centers, alternative educational and community-based programs that serve out-of-home or at-risk high-school aged youth.
This is an introductory training for staff who have had limited previous training, or who wish to update their existing skills. Participants in this interactive workshop will gain knowledge and skills in:
Creating a safe and welcoming environment for LGBTQ youth
Understanding new and changing terminology
The "coming-out" process
Dealing with homophobia
The workshop is free of charge and lunch will be provided. This training qualifies for .7 CEU from the University of Maine [7 contact hours].  We will also provide participants with manuals and/or prevention materials.
Training presented by:
Jody Pierce-Glover
Penny Sargent
Jack Waite
For more information:
Olivia Loneman, Prevention & Training Coordinator
(207) 795-4077
Use the registration form below to apply to attend this free one-day training.