As in past years, New Beginnings and LAASH are hosting a Homeless Memorial Vigil on the winter solstice – the longest night of the year. The 2016 Vigil will be on Wednesday, December 21st from 4:30 to 5:30 pm.
Printable and shareable flyer here (PDF): L-A Homeless Memorial Vigil 12.21.2016
Facebook event page: https://www.facebook.com/events/598376493692148/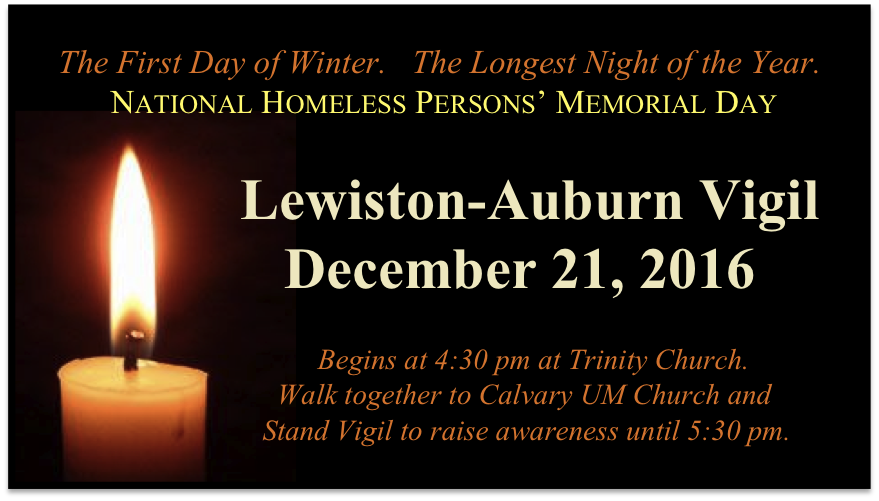 Please meet at 4:30 p.m. at Trinity Church (corner of Spruce Street and Bates Street) in downtown Lewiston. Vigil participants are invited to bring non-perishable and canned food to donate to Trinity Jubilee Center. After a few words, reading of names, and lighting of candles, we will walk several blocks down Bates Street to Main Street. The procession will turn right on Main Street and continue up Sabattus Street and stop in front of Calvary United Methodist Church in the triangle between Sabattus, College and Bartlett streets.
This Lewiston-Auburn Vigil is part of a national movement of cities marking National Homeless Persons' Memorial Day on or near the winter solstice, the first day of winter and the longest night of the year to honor people who died while homeless during the previous year and to raise awareness about homelessness.
You are welcome to join the vigil at any point, and groups from businesses and service providers near the route are especially encouraged to join as the vigil passes.
If you are able, please bring signs to hold as the vigil remains in front of Calvary to raise awareness of homelessness to passersby during the evening commute.
Hot soup will be available indoors at Calvary. New Beginnings will provide van service back to Jubilee or the Park Street garage as needed.
Service providers and individuals are encouraged to bring the names of people who have died while homeless in 2016 to read at the beginning of the Vigil. To submit names if you cannot attend, please post here or contact Chris Bicknell at chris@newbeginmaine.org or 795-4077.