Since 1989, New Beginnings' staff has been challenging residents of the Transitional Living Program to dig deep and explore their limits through its Adventure  Challenge (AC) Program.  Youth have participated in 187 AC trips each rooted in the belief that youth learn by experience with a hands-on approach.
How you can support Adventure Challenge Trips
New Beginnings needs your support to make this opportunity available to a larger group of youth who otherwise would be unable to participate. Your donations are tax deductible. Here's how you can help.
In-Kind Support:
New Gear Requests:

Three Person Tent
(2) Two Person Tents
(6) Rain Gear Sets – Jacket and Pants
(6) Pair of Snow Pants
(6) Pair of Wind Pants

Host a Challenge: Do you own or operate a business that could host our youth for an adventure-based challenge? Please let us know that you'd like to host our youth by contacting Amber Kruk by email at amber@newbeginmaine.org or by phone at (207) 795-4077 ext. 209.
Financial Support: Historically, we have been able to bring youth on six or more Adventure Challenge trips per year but with the average cost per trip rising to nearly $600.00 per youth we have had to scale back to approximately four trips per year. You can ensure these opportunities to help youth develop teamwork skills, self-esteem, and a chance to "see what's out there" by making a donation today.
Looking Back: A chronology of
December 2017: Sugarloaf Ski/Boarding Trip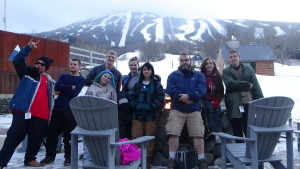 October 2017: Urban Trip: New York City
July 2017: Baxter State Park / Bar Harbor
March 2017: Winter Camping in the White Mountains
December 2016: Sugarloaf Ski/Boarding Trip
September 2016: Acadia National Park
May 2016: Urban Trip: Boston
December 2015: Sugarloaf Ski/Boarding Trip
July 2015: Adventure Bound Whitewater Rafting on the Kennebec River
December 2014: Sugarloaf Ski/Boarding Trip
June 2014: Conway Hostel
February 2014: Winter Camping
December 2013: Sugarloaf Ski/Boarding Trip
September 2013: Horseback Riding with camping in nearby pasture
August 2013: Portland Exploration with camping in Scarborough
July 2013: Adventure Bound Whitewater Rafting on the Kennebec River
May 2013: Urban Trip: Boston
February 2013: Winter Camping
December 2012: Sugarloaf Ski/Boarding Trip
November 2012: Tumbledown hike/Coos Canyon camping
September 2012: Horseback Riding with camping in nearby pasture
July 2012: Acadia National Park – Mountain Biking
May 2012: Urban Trip: New York City
February 2012: Winter Camping
December 2011: Sugarloaf Ski/Boarding Trip
September 2011: Horseback Riding with camping in nearby pasture
August 2011: Sebago State Park
July 2011: Rafting and Climbing Trip
May 2011: Urban Trip: Boston
February 2011: Winter Camping in the White Mountains
December 2010: Sugarloaf Ski/Boarding Trip
October 2010: Horseback Riding and camping in nearby pasture
August 2010: Bryant Pond Outdoor Center
May 2010: Urban Trip: New York City
February 2010: Winter Camping
December 2009: Sugarloaf Ski/Boarding Trip
November 2009: Bryant Pond Outdoor Center
July 2009: Whitewater Rafting
June 2009: Urban Trip: Boston
December 2008: Sugarloaf Ski/Boarding Trip
September 2008: Horseback Riding and camping in nearby pasture
August 2008: H'Olympics-Hinckley
July 2008: Geo-Quest Trip
May 2008: Urban Trip: Boston
December 2007: Sugarloaf Ski/Boarding Trip
September 2007: Horseback Riding and camping in nearby pasture
July 2007: Scavenger Hunt – Geo Quest Trip
May 2007: Urban Trip: Montreal
February 2007: Winter Camping
December 2006: Sugarloaf Ski/Boarding Trip
November 2006: Appalachian Trail Backpacking
September 2006: Horseback Riding and camping in nearby pasture
July 2006: Whitewater Rafting
April 2006: Urban Trip: Boston
February 2006: Winter Camping White Mountains
December 2005: Sugarloaf Ski/Boarding Trip
November 2005: Scavenger Hunt
September 2005: Horseback Riding and camping in nearby pasture
August 2005: Vermont Trip
July 2005: Fishing Trip
June 2005: Sea Kayaking
April 2005: Urban Trip: New York City
February 2005: Winter Camping
December 2004: Sugarloaf Ski/Boarding Trip
October 2004: Katahdin Climb
September 2004: Horseback Riding and camping in nearby pasture
August 2004: Norlands Living History Center
June 2004: Attean Pond Canoeing and Hiking
May 2004: SERE School Rangley
April 2004: Quebec Canada
February 2004: Winter Camping
December 2003: Sugarloaf Ski/Boarding Trip
November 2003: Appalachian Trail below Saddleback Mountain Backpacking
September 2003: Horseback Riding and camping in nearby pasture
September 2003: Boothbay Harbor
August 2003: Rock Climbing/Rafting – Adventure Bound
June 2003: Moose River Canoe Trip
May 2003: Urban Trip: Montreal Canada
February 2003: Winter Camping
December 2002: Sugarloaf Ski/Boarding Trip
November 2002: Bigelow Mountain Backpacking
September 2002: Urban Trip: New York City
August 2002: Horseback Riding and camping in nearby pasture
July 2002: Hermit Island Ocean Trip
May 2002: Coos Canyon / Tumbledown Hike
March 2002: Winter Camping White Mountains
February 2002: Washington D.C. National Network for Youth Development Trip
December 2001: Sugarloaf Ski/Boarding Trip
November 2001: Men's Conference Portland / White Mountains Backpacking
September 2001: Norlands Living History Center
July 2001: Horseback Riding and camping in nearby pasture
July 2001: Moose River Canoe Trip
June 2001: Mount Washington Climb
May 2001: Conway, NH Youth Hostel Trip
February 2001: Winter Camping White Mountains
December 2000: Sugarloaf Ski/Boarding Trip
November 2000: White Mountains Hiking
September 2000: Acadia National Park
August 2000: Horseback Riding and camping in nearby pasture
July 2000: Whitewater Rafting Kennebec River
June 2000: Moose River Canoe Trip
May 2000: Conway, NH Youth Hostel Trip
March 2000: Norlands Living History Center
February 2000: Winter Camping – Basin Site White Mountains
January 2000: Winter Camping – Basin Site White Mountains
December 1999: Sugarloaf Hiking Trip
September 1999: Ocean Trip – Hermit Island
July 1999: Horseback Riding and camping in nearby pasture
June 1999: Moose River Canoe Trip
April 1999: Urban Trip: Boston, Youth Hostel
February 1999: Winter Camping and Carter Hut
December 1998: Sugarloaf Ski/Boarding Trip
November 1998: Tumbledown Mountain – Backpacking
September 1998: Unity College Ropes Course
August 1998: Horseback Riding and camping in nearby pasture
June 1998: Moose River Canoe Trip
May 1998: Grand Manan Island, Canada
March 1998: Norlands Living History Center
February 1998: Winter Camping in the White Mountains
December 1997: Sugarloaf Ski/Boarding Trip
October 1997: Unity College Ropes Course
August 1997: Whitewater Rafting
August 1997: Horseback Riding and camping in nearby pasture
June 1997: Moose River Canoe Trip
May 1997: Tumbledown Mountain – Backpacking
April 1997: Urban Trip: Boston
February 1997: Winter Camping and Carter Hut
December 1996: Norlands Living History Center / Sugarloaf Ski/Boarding Trip
November 1996: Tumbledown Mountain – Backpacking
September 1996: White Mountains National Forest Hiking
August 1996: Baxter State Park: Katahdin Climb
June 1996: Moose River Canoe Trip
April 1996: Acadia National Park MTB Trip
March 1996: Urban Trip: Boston, Youth Hostel
February 1996: Winter Camping and Carter Hut
December 1995: Norlands Living History Center / Sugarloaf Ski/Boarding Trip
October 1995: Baxter State Park: Katahdin Climb
August 1995: Baxter State Park: Katahdin Climb
June 1995: Moose River Canoe Trip
April 1995: Acadia National Park MTB Trip
February 1995: Winter Camping and Carter Hut
December 1994: Norlands Living History Center / Sugarloaf Ski/Boarding Trip
November 1994: Backpacking – Tumbledown Mountain
October 1994: Baxter State Park
August 1994: H'Olympics – Hinckley, Maine
June 1994: USM Ropes Course
May 1994: Acadia National Park
March 1994: Sugarloaf Ski/Boarding Trip
February 1994: Grand Canyon, Arizona
December 1993: Norlands Living History Center / Sugarloaf Ski/Boarding Trip
October 1993: Backpacking – Tumbledown Mountain
August 1993: Moose River Canoe Trip
July 1993: Camp Mechuwana (Winthrop, ME)
June 1993: Kennebec River Rafting
April 1993: Chewonki Outdoor Center
February 1993: Sugarloaf Ski/Boarding Trip
January 1993: Winter Camping and Carter Hut
December 1992: Norlands Living History Center
October 1992: USM Ropes Course – Freeport, ME
August 1992: Moose River Canoe Trip
May 1992: Bethel Center Outward Bound Rock Climbing
April 1992: Boston Outward Bound Trip
February 1992: White Mountains Winter Camping and Carter Hut
January 1992: Winter Recreation: Skiing and Camping
December 1991: Norlands Living History Center
October 1991: UNH Ropes Course
September 1991: Backpacking at Tumbledown Mountain
June 1991: Mt. Blue Camping Trip
May 1991: Navy SERE School: Rangley, Maine
March 1991: Urban Trip: New York City
February 1991: Winter Recreation: skiing, camping, dog sledding
January 1991: White Mountains Winter Camping
December 1990: Norlands Living History Center
November 1990: Fisher Farms / Thorncrag Community Service
September 1990: "Acres of Wildlife" Campground
August 1990: Kennebec River Rafting
June 1990: Acadia National Park
May 1990: Boothbay Harbor
April 1990: Bradbury Mountain
October 1989: Mt. Blue Camping Trip
July 1989: Kennebec River Rafting
July 1989: Camden Hills Camping Trip
June 1989: Camden Hills Camping Trip
May 1989: Mt. Bradbury Camping Trip