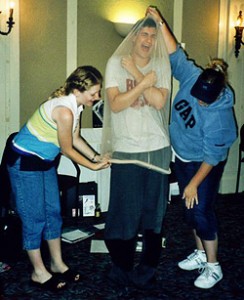 The Prevention and Training Program coordinates effective, skills-based education to youth in all of New Beginnings' programs to help them to stay healthy and reduce their risk for HIV infection, pregnancy, substance abuse, and other high-risk behaviors. Youth are trained to serve as HIV educators with their peers.  New Beginnings also conducts research and evaluation projects and on-going staff training to support the development of innovative programming and promote the goal of healthy youth development.
New Beginnings' Prevention and Training Coordinator works with staff from all of our programs as part of our agency and state-wide training efforts.  In partnership with the Maine Department of Education and Maine Family Planning/PREP, New Beginnings has provided the following training workshops for youth workers and teachers from throughout Maine who serve high-risk youth:
The training pages linked here are for informational purposes only.  For more information about prevention and training at New Beginnings, please contact Olivia Loneman, Prevention and training Coordinator, at 207-795-4077, extension 208.