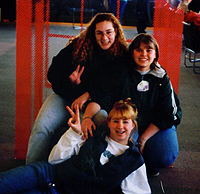 The Transitional Living Department provides housing and supportive services to help older adolescents (ages 16-under 22 at the time of admission) develop the attitudes and skills necessary for independent living.
The Transitional Living Department consists of three programs, the Supervised Apartment Program, the Community Living Program and the Transitional Housing for LGTBQ youth. All TLP services are designed for youth who are homeless or are at risk of homelessness. Youth may remain in these transitional housing programs for a maximum of 18 months. Follow up counseling is available for up to one year after a youth is discharged from the residential programs.
Referrals may be made Monday through Friday 9:00 am to 5:00 pm by calling 207-795-4074.
Services include:
 case management
 independent living skills instruction
 individual and group counseling
 substance abuse prevention
 pre-vocational training
 referrals to community resources
 follow-up support and counseling
---
SUPERVISED APARTMENT PROGRAM
The TLP Supervised Apartment Program is located in Lewiston and has 24-hour on-site staff supervision.  This program accepts referrals for youth ages 16-20.
---
COMMUNITY LIVING PROGRAM
The Community Living Program provides housing and case management services in Lewiston, Augusta and the Farmington area. This program accepts referrals for young adults, ages 18-under 22 at the time of admission, and emancipated minors.
---
Adventure Challenge
Since 1989 the New Beginnings Transitional Living Program residents have participated in over 160 Adventure Challenge trips.  These trips are based on the belief that youth learn by experience and a hands-on approach.  New Beginnings Adventure Challenge trips provide outings to help with teamwork skills, self-esteem, and "see what's out there".  Some of the most powerful lessons result from experiences which are both physically and mentally challenging.  New Beginnings Adventure Challenge trips are year-round which feature winter camping in the White Mountains, skiing at Sugarloaf, horseback riding, trips to New York City and Boston.  Youth assist in planning and implementing all our trips.