Main Office:  134 College Street, Lewiston ME 207-795-6831
Franklin County: 124 Main Street, Farmington ME 207-778-6193      
Kennebec County: 151 Sewell Street, Augusta, ME 207-621-0004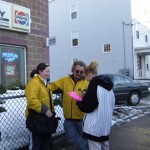 The Outreach Program serves youth ages 14-21 who are homeless or at risk of becoming homeless throughout Androscoggin, Kennebec, and Franklin Counties with comprehensive case management; referrals to local and state agencies; assistance with housing needs and access to shelter; connection to local educational and employment programs; and street outreach to connect with youth.  Street-based services are provided to runaway, homeless, and street youth who have been subjected to, or are at risk of being subjected to, sexual abuse, or sexual exploitation. The main Outreach Program office and Drop-In Center are located in Lewiston and satellite offices are located in Farmington and Augusta. New Beginnings Outreach workers make contact with youth through street outreach in both urban and rural neighborhoods, schools, libraries, soup kitchens, parks, and wherever young people are located.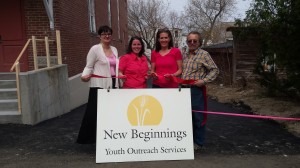 Drop-In Center: The Lewiston-Auburn based Youth Outreach Drop-In Center is open Monday-Friday
afternoons and evenings providing meals, information and referrals, supplies and clothing, and group activities.  The Drop-In Center provides a warm, safe place for young people to get to know staff and utilize services.  Once trust is established, youth have the option of working individually with a staff advocate to help them achieve their goals  and increase stability.  Our new facility at 134 College Street includes expanded areas for recreation, meals, counseling, support groups, music and other creative arts – all within walking distance of downtown Lewiston.
Targeted Case Management & Housing Referrals: New Beginnings provides comprehensive, strengths-based case management and advocacy services for youth and young adults who lack a permanent place to live in Androscoggin, Franklin, and Kennebec Counties.  Working together with youth ages 14-21, staff can assist with reconnecting to families or developing a plan for stable housing, while accessing basic survival needs, education, physical and mental health care, and financial resources.  All services are voluntary and free of charge.
In May 2015 the Drop-In Center moved from Lisbon Street to College Street in Lewiston: