Want to make a difference?  Join our staff!
We are hiring talented and enthusiastic people who are committed to making a difference for homeless youth in Maine. For over 35 years, New Beginnings has helped children, teens, and young adults find safety, build connections, and access the opportunities for growth that they need to thrive.  Our comprehensive services prevent young people from becoming homeless, support struggling families, and help vulnerable youth grow into stable and healthy adults.
Current Full-Time Opportunities:
Current Part-Time Opportunities:
We value our dedicated employees, who create the caring and trusting relationships that are at the heart of our work and that bring about change. Our direct care staff plays a critical role in the lives of the youth we serve. Putting New Beginnings' mission into action is both challenging and rewarding, and we deeply appreciate how hard our employees work to help the youth in our programs become stable and healthy adults.

What makes New Beginnings unique?
New Beginnings' mix of funding sources allows us to serve youth in need, without charging for our services. Unlike many other service providers, our case managers, clinicians, and youth workers can meet clients' needs without being "tied to the clock" or limiting their engagement to Medicaid-eligible appointments. Our staff work in a casual and respectful environment where they do what it takes to creatively support each youth or family as they work toward their goals.
New Beginnings' innovative model of care is rooted in positive youth development and respect for the diverse stories and strengths of the people we serve. We utilize cutting-edge approaches and services that provide results and improve lives. New Beginnings provides extensive orientation and training to all new staff, as well as ongoing professional development over the course of their career with New Beginnings – including access to educational benefits such as tuition reimbursement for pursuing degrees or certifications related to their job.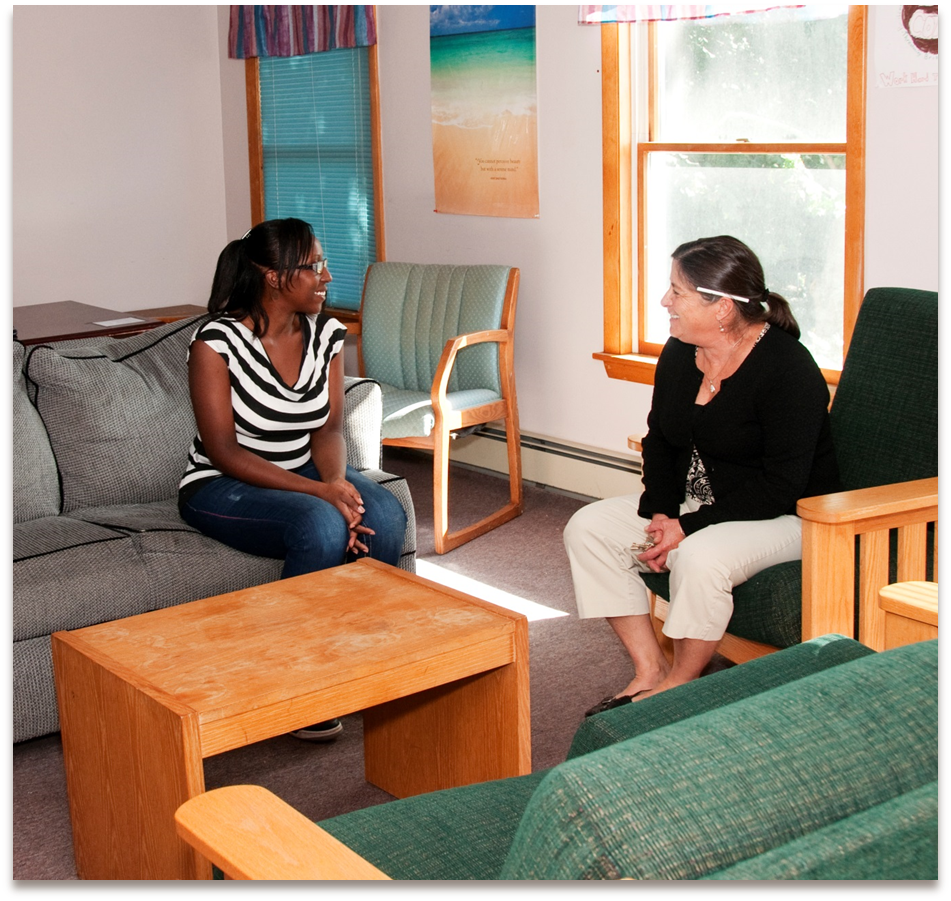 Our benefits package reflects our commitment to supporting our employees. We pay competitive wages, and all full-time employees are eligible for 100% health insurance, generous paid time off, agency contributions to a retirement account, and many other benefits with a monetary value averaging over $10,000 per employee.
Now is the time to have an impact.
We are in the midst of a period of positive change. Our agency headquarters and expanded Youth Drop-in Center are located in the heart of Lewiston, with program sites in Androscoggin, Kennebec, and Franklin counties. Our new Executive Director, Board, and experienced management team are poised to develop and implement a new strategic plan that will increase our capacity and bring our services to nine counties in Maine.
Joining New Beginnings now is an opportunity to be a part of planning and growth. We have a long history of providing innovative and nationally-recognized services for youth at risk for homelessness – including housing, family mediation, street outreach, and the only 24-hour emergency youth shelter in the state.
We're looking for leaders with creative problem-solving skills who are motivated to try new strategies. As part of our team, you can help more young people achieve results and become healthy and successful adults. New Beginnings is seeking candidates who represent the diversity of the communities we serve with the vision and ambition to strengthen and expand our programs and agency. Join us!
If you care about building a brighter future with vulnerable youth and families in Maine, we encourage you to take a look at our current job openings below. We look forward to hearing from you!
---
New Beginnings is an Equal Opportunity Employer.
We encourage applications from people of color; lesbian, gay, bisexual and trans persons; and those with personal or professional experience with homelessness and/or high-poverty communities. 
Download New Beginnings Job Application (PDF 24 KB)
---
OPEN POSITIONS – FULL TIME:
Benefits: We offer competitive wages with full benefits: health, dental, vision, life, disability, long-term care, 403b retirement plan – and 33 days/year of earned benefit time to start. 
Outreach Director
Job Description: The position of Outreach Director is a senior management position with significant decision making authority and responsibility for the oversight and daily operation of our Drop-In Center in Lewiston and our existing outreach services in Lewiston, Augusta & Farmington. The Outreach Director has a varied set of responsibilities that range from direct support of youth and staff to agency level oversight and management. The ability to find creative solutions to systemic challenges, and advocate for the needs of vulnerable youth are key components of this mission-critical position at New Beginnings.
The successful candidate will be an excellent relationship-builder who can deliver results. This position requires a leader with a commitment to respect and diversity, and the ability to skillfully communicate with audiences ranging from homeless street youth to social workers to rural town managers to agency donors and volunteers.
The Outreach Director provides supervision for all outreach program staff and models positive youth development approaches, harm reduction philosophy, and trauma-informed care. Facilitates staff meetings and develops training for staff based on national best practices. Collects data, compiles reports, and assures program compliance with grants and state and federal regulations. The Outreach Director oversees case management services and the implementation of our Model of Care.
Job Requirements: A minimum of one year experience with supervision of personnel and program management, and three years' experience with adolescent programs, preferably in non-residential settings required. Master's degree in a directly related field may be substituted for one year of experience. Bachelor's degree in social sciences required; Master's degree in social work or counseling strongly preferred. Working knowledge of harm reduction, and Stages of Change/Motivational Interviewing; experience with human service and mental health delivery systems and homeless youth issues required. Excellent judgment, communication, conflict resolution, and critical thinking, good computer and organizational skills. Driver's license and good driving record, some travel required.
Please send resume and letter of intent to:
Chris Bicknell, Executive Director; Email: search@newbeginmaine.org or Fax: (207) 795-4080
Office Manager
Job Description: We are seeking an Office Manager for our agency headquarters. We are a growing non-profit agency seeking an individual who can help us build our administrative capabilities and create efficiencies in our current systems. The successful candidate will help us develop more efficient administrative processes as well as manage the day to day operations of our agency headquarters. This position has a broad range of skills and responsibilities that include but are not limited to office management, vendor liaison, HR functions as well as reception and filing.
We are seeking someone who has professional administrative skills and the ability to see the big picture and develop plans and systems to meet the growing needs of our agency. The Office Manager will be accountable to the senior management team and have responsibilities across several departments. The successful candidate will be an excellent team player and be able to prioritize multiple demands and expectations.
Typical job responsibilities include managing our central office, coordinating volunteers, maintaining agency and personnel files, performing various reception, financial and secretarial duties. The person filling this position regularly deals with high-level confidential matters that require a superior degree of professionalism in an extremely sensitive environment. The position requires the ability to respond well to close supervision as well as work independently and complete projects as assigned. Good time management skills are essential.
Specifications and Qualifications
Education and Training: High school diploma or equivalent required. Post-secondary certificate or degree in office management or related area preferred.
Job-Related Experience: A minimum of four years of administrative office experience is required.
Specialized Skills: Excellent Windows-based computer skills and spreadsheet experience required, including Microsoft Office, word processing, mail merge, and spreadsheet experience. Familiarity with basic personnel policy procedures and confidentiality regulations. Knowledge of and experience with office equipment. Ability to greet the public in a cordial, informative manner and address conflict in a professional manner.
Cognitive Requirements: Ability to self-teach corrective and new skills from computer manuals. Ability to perform math functions on at least a high school graduate level with accuracy. Ability to write skillfully, composing original letters with excellent readability. Able to follow directions that are detailed and extensive in a step by step fashion.
Physical Requirements: Must be able to sit for long periods of time in an office environment. Able to type with manual dexterity for use of typical office equipment. Able to physically clean and maintain own office area.
Work Environment: Administrative offices; much time spent in public areas.
Please send resume and letter of intent to:
Lisa Dumont, Director of Finance and Administration; Email: Lisa@newbeginmaine.org or Fax: (207) 795-4080
Prevention and Training Coordinator
Job Description: Since 1990, the Prevention Education Program has worked with the Maine Dept. of Education to provide risk reduction and sexual health training to educators and youth agency staff across the state.  Using evidence-based curricula and the most current research, participants gain skills and knowledge in areas such as: HIV/STD/unplanned pregnancy prevention; Harm Reduction; and working with LGBTQ+ youth. The program also delivers risk reduction curricula to youth in New Beginnings' programs and provides technical assistance to other agencies in replicating programming.
 This full-time position includes a unique mix of training other providers, direct services with youth, and program coordination delivered in partnership with staff inside New Beginnings and collaborators outside the agency. This position coordinates and delivers evidence-based training workshops on HIV Prevention and sexual health for school and agency staff statewide, including: scheduling, logistics, marketing, data collection and evaluation; facilitating trainings and coordination with contracted trainers and funders (ME Dept. of Education & Maine Family Planning/PREP). Providing direct service with youth including facilitating HIV/pregnancy prevention groups and risk assessments with youth in all of New Beginnings programs. Also helps provide prevention, harm-reduction, and LGBTQ+ competency related training to NB staff internally and through grant-funded community trainings.
 Job Requirements: Excellent group facilitation, organization, and communication skills required. Prior experience working with vulnerable or homeless youth/young adults, reproductive health education or HIV prevention, event planning, and/or teaching or training is preferred. Bachelor's degree in human services-related field required; additional education/training or advanced degree in health or human sexuality preferred. Position requires cultural competency with teens/young adults, LGBTQ+ communities, folks experiencing homelessness and/or poverty, and educators, and a comprehensive approach to human sexuality education. Ideal candidate has working knowledge of harm reduction approaches, Stages of Change, and Motivational Interviewing; strong presentation skills and knowledge of diverse learning styles; and the ability to work with young people using a positive youth development framework. Position requires reliable transportation; clear driving record; ability to travel to training sites statewide; and work some evening hours.
Printable PDF of Prevention and Training Coordinator job description
Please send resume and letter of intent to:
Rachel Spencer-Reed, Director of Development and Community Services; Email: rachel@newbeginmaine.org or Fax: (207) 795-4080
Development and Marketing Coordinator
Job Description: We're seeking someone who is highly motivated, mission-focused, and ready to take on new challenges – with excellent social media savvy and interpersonal communication skills that can be leveraged to tell the story of New Beginnings. The Development and Marketing Coordinator is supervised by and works closely with the Director of Development to implement the agency's fundraising and marketing plans with the goal of increasing private support for New Beginnings.
The Development and Marketing Coordinator will be responsible for distilling our mission, goals and outcomes into persuasive branding and marketing tools designed to increase our visibility, donor/volunteer base and revenues. The Coordinator will have primary responsibility for annual fundraising, special campaigns, events, newsletters, online content, donor database, in-kind donor contact, and marketing/promotional materials.
The successful candidate will have experience with meeting and exceeding fundraising goals through engaging messaging and storytelling to show impact and generate community support. This position has significant social networking responsibilities as well as electronic record-keeping and developing print materials. They will also assist with grants research and management, grant writing, and creating and implementing annual and long-term development and marketing plans.

Job Requirements: A minimum of 2 years' experience in non-profit development work and/or successful fundraising. Bachelor's degree is required; professional certification or continuing education preferred. Extensive related experience may be substituted for a degree. Excellent speaking, writing, and design skills; organization and attention to detail; and motivation to work both independently and as a team.
Significant office work experience is required, including excellent Windows-based computer, word processing, layout, mail merge, Excel, and web/social media skills. CRM/donor database experience, data analysis, graphic design, photography/video skills, event planning, valid driver's license, and prior supervisory experience preferred. Familiarity with youth development, homeless programs, or advocacy are also a plus!
This full-time position has excellent benefits and is based in New Beginnings' Lewiston, ME agency offices with some local travel required; driver's license and clean driving record preferred.
Please send resume and letter of intent to:
Rachel Spencer-Reed, Director of Development and Community Services; Email: rachel@newbeginmaine.org or Fax: (207) 795-4080
Please note: Candidates selected to interview will be required to submit marketing and writing samples as part of the hiring process.
Transitional Living Program Youth Worker
Job Description: The Youth Worker position is responsible for the supervision of youth in the residential and aftercare components of the Transitional Living Program. The youth worker is a member of a collaborative team that utilizes a positive youth development model to assist young people in moving towards independence and stable housing. This position provides case management, life skills education, recreational activities and group facilitation using a strengths-based approach that emphasizes youth and adults working together as partners. Driver's license and good driving record required.
Job Requirements: Bachelor's degree in human services related field in order to qualify as a (TCM) Targeted case manager.
Please send resume and letter of intent to:  Denise Vaillancourt, Transitional Living Program Coordinator; Email: denise@newbeginmaine.org or Fax: (207) 795-6747
---
OPEN POSITIONS – PART-TIME:
Outright L-A Program Director
Reports To: Outright L-A Advisory Board, supervises 1 staff and volunteers
Non-Exempt, part-time (15-20 hours/week), $18 an hour
Job Description: In conjunction with the volunteer Board of Directors and Youth Advisory Board, the program director oversees all aspects of the Outright Lewiston-Auburn program. Primary responsibilities include coordinating fundraising, grant writing, and grants management including working closely with our fiscal sponsor New Beginnings, Inc.  This position recruits, trains, and manages more than 25 adult volunteers who staff programming.
This position supervises the Youth Projects Organizer who manages direct support services and leadership development with youth. They work as a team, with the Program Director managing logistical planning for events and adult volunteer management to staff programming. This includes all activities associated with the weekly drop-in, education and marketing; recruitment, training and supervision of volunteers. 
For qualifications and full job description, click here.
To apply: Please send cover letter and resume to vanessa@outrightla.org. Applications will be accepted until July 5, 2019.

**Please note that New Beginnings is Outright L-A's fiscal sponsor and Outright staff are employees of New Beginnings Inc.** 
Emergency Shelter On-Call Relief Staff
Job Description: As an On-Call Relief Staff member you would fill in for Direct Care Staff when they are unable to work. On-call relief staff are responsible for fulfilling the responsibilities of the person for whom they are substituting. Essential Job Functions include: Provide coverage for Direct Care Staff when they require time off; Records daily notes regarding progress towards goals and behavioral observations; Transports and accompanies clients to appointments and/or meetings as appropriate; Conducts intake and discharge meetings; Assists in developing care plans with youth and performing case management functions; Organizes, facilitates and participates in daily activities and recreation; Teaches life skills through active participation in chores, cooking and daily activities; Assesses and handles crisis situations, behavioral issues and rule violations; Cleans and does light maintenance of public areas of building as well as exterior grounds; Monitors and dispenses medications; and, Other duties as needed.
Job Requirements: Mature adult with High School Diploma or equivalent. Experience with youth in crisis or in a residential setting preferred. Good problem solving skills; literacy and general knowledge on at least a high school graduate level. Strength and dexterity to do basic household maintenance; ability to climb stairs.
Please send resume and letter of intent to:
Marian Carney, Shelter Director: Email: marian@newbeginmaine.org or Fax: (207) 795-4072
---
New Beginnings is an Equal Opportunity Employer.
We encourage applications from people of color; lesbian, gay, bisexual and trans persons; and those with personal or professional experience with homelessness and/or high-poverty communities.
Download the New Beginnings Job Application here:  NB Application for employment (MS Word 46KB)