As part of National Runaway and Homeless Youth Prevention Month, this past November, New Beginnings and L/A Arts co-hosted an exhibition of artist Ned Castle's HIGHLOW Project exhibited at L/A Arts gallery space in downtown Lewiston.
The HIGHLOW Project originated as a collaboration between the artist and youth served by the Vermont Coalition of Runaway Homeless Youth programs (VCRHYP). Castle worked directly with the youth to create large-format photographs depicting re-enactments of high and low moments in each youth's life. Audio of the youth telling their stories accompany the photographs and explain each situation's significance.
Remarking on the stories, local photographer Rene Roy of Rene Roy Photography says, "The collection of stories points to how fast things can get out of hand for a young person struggling against adversity.  Without a support system in place life can become unmanageable quickly. It's very sad to think that these experiences are being shared by youth in our communities; having to sleep in the bushes or in a car in the winter time. It's terrible that this is their reality."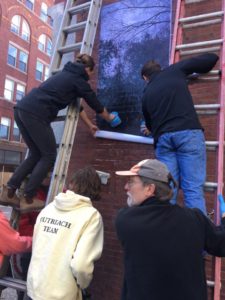 In addition to gallery hours, Ned Castle spoke at the Lewiston Public Library on the night of November 8th. Earlier that same day, Ned and a small contingent of New Beginnings' staff and youth clients installed a temporary mural on the Park Street alley wall of the Lewiston Public Library. The mural featured two HIGHLOW images from the exhibit ("Steve high and low") that remained up throughout the month of November.
The talk, mural, and exhibition were part of a series of events organized by New Beginnings to raise awareness during National Runaway and Homeless Youth Prevention Month in November 2018.
When asked about the importance of the exhibit being accessible
locally, Rene shares, "For me, it was important to be in the space with the images. It gave me an occasion to come and fully experience the stories. Being in the gallery allowed me to immerse myself in what the subject was going through in a way that I think would have felt different online. Anyone who missed the opportunity to view the exhibit in person should make time to experience the stories online. We need to educate ourselves about these struggles and find ways to help."  To view these stories online please visit https://vcrhyp.org/highlow-project.html.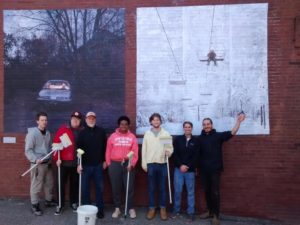 Special thanks to Hebert Construction and BrunswickSteel for providing in-kind support for the mural project, to the City of Lewiston for helping to make the mural possible, and to the partners who helped bring this project to Maine including: L/A Arts and the Lewiston Public Library, The Vermont Coalition of Runaway and Homeless Youth Programs and the Vermont Folklife Center who originated the project with the artist Ned Castle, as well as event lead sponsors Clark Insurance and Norway Savings Bank.
###
Additional Links: