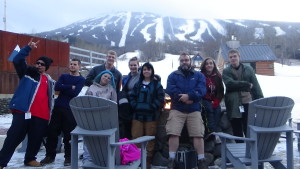 Since 1989, New Beginnings' staff has been challenging residents of the Transitional Living Program to dig deep and explore their limits through its Adventure  Challenge (AC) Program.  Youth have participated in 187 AC trips each rooted in the belief that youth learn by experience with a hands-on approach.
Juan* has participated in three AC trips, including  skiing and snowboarding at Sugarloaf, exploring big-city life in New York City, and climbing and camping in Baxter State Park.
AC trips have given Juan  a chance to experience adversity in a safe environment – a striking difference from the challenges he faced before he came to New Beginnings. Growing up, Juan's life was full of constant family  conflict. He left home at age 15 when it became clear that he was not welcome and things couldn't be resolved. Juan came to New Beginnings' shelter and then the Transitional Living Program (TLP).
"Sometimes you don't know what you are capable of until you are dropped on the side
of a mountain, or in the middle of Times Square," reflects Juan. "It's not supposed to be easy. So when you complete the challenge it's like, 'Wow! I did that.'"
Now 18, Juan will complete his time as a resident at the TLP this spring.
Commenting on what he found most challenging about his time in New York City, Juan says, "I really  enjoy how you can sort of disappear in the city. At the same time,  the city forces you to be  social. You can't meet anyone unless you talk to them. I'm thinking, 'How do these people make friends?' It's something I don't really have to consider living in Lewiston."
The AC outings are designed to help youth develop teamwork skills, self-esteem, and an opportunity to "see what's out there", and our youth assist in planning and  implementing all of our trips.
TLP Coordinator Michael Suter says, "Some of the most powerful lessons result from experiences which are both physically and mentally  challenging."
Juan agrees. About an  upcoming winter camping trip he shares, "Staff keep telling us 'We are preparing on two levels; for our comfort and for our survival.' I trust the people I am with, the staff. I'm not worried."
He continues, "The trip gives me something to look forward to—all the scenery. I mean, it's mentally challenging being away from your daily routine, but it's also good to get away from the drama. I appreciate that I don't have to stress when I'm on the trips… it's a relief to be unavailable. To unplug."
Over the last 20 years, Ethan May, New Beginnings' Youth Development Coordinator has participated in or led more than 160 of the 187 trips.
Ethan shares: "Proximity doesn't necessarily bring people together. The youth may all be in the same  program but that doesn't mean they always see each other. These trips help bring the youth together in a way that living in the same apartment building can't."
Juan agrees. "I notice when I go on AC trips, people are alone with their feelings of being excited or anxious when we're heading out. When we're getting back, everyone is coming home together."
Juan, who recently graduated from a trade program, is looking forward to continuing his vocational training.
These trips have been a  highlight of Juan's time at New Beginnings. He's had an opportunity to participate in experiences that have helped shape the future he wants for himself. "I'll miss these trips.  I would really like to come back to  participate in these challenges. I for sure will continue to find ways to get out in the outdoors. I really love it. I didn't know that before."
To learn more about how you can support AC trips please visit, www.newbeginmaine.org/yac.