New Beginnings and L/A Arts co-host HIGHLOW Project exhibit to raise awareness of youth homelessness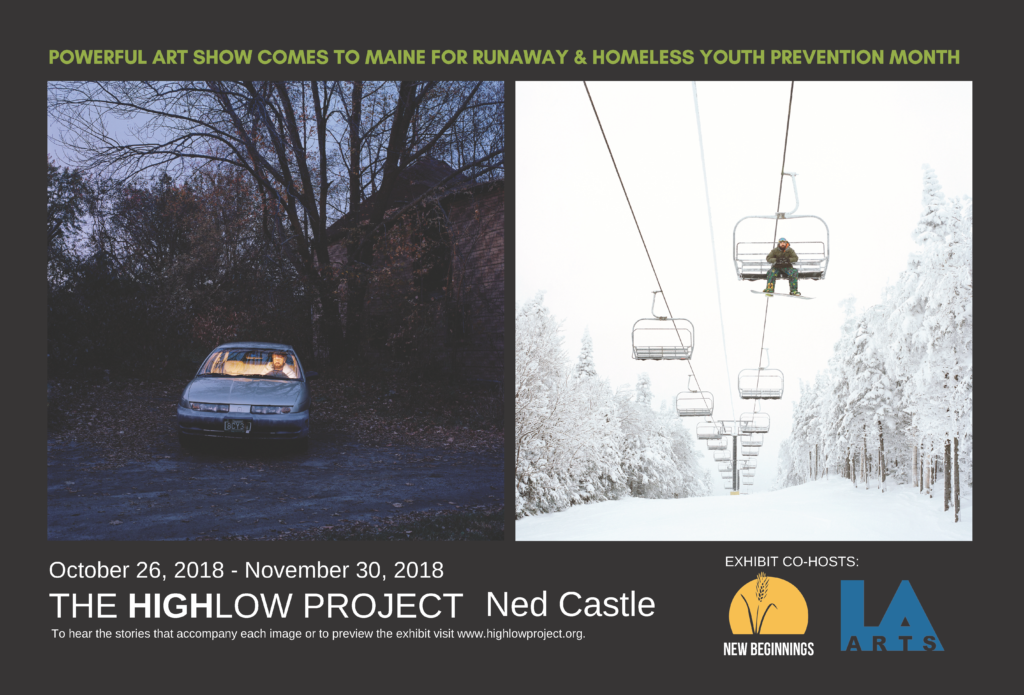 As part of National Runaway and Homeless Youth Prevention Month this November, New Beginnings and L/A Arts will co-host an exhibition in their downtown Lewiston gallery (221 Lisbon St in Lewiston), bringing the photography of artist Ned Castle and the HIGHLOW Project to Maine.
The HIGHLOW Project originated as a collaboration between the artist and youth served by the Vermont Coalition of Runaway Homeless Youth programs (VCRHYP).  Castle worked directly with the youth to create large-format photographs depicting re-enactments of high and low moments in each youth's life. Audio of the youth telling their stories accompany the photographs and explain each situation's significance.
On the night of October 26th, an opening reception for the HIGHLOW exhibit will be held in the L/A Arts gallery from 5 to 8 pm as part of the storytelling-themed final 2018 Artwalk LA.  The show will run through the month of November and will be viewable during gallery hours (12 noon to 4 pm Wednesdays, Thursdays, and Fridays, and 11-3 on weekends).
On November 8th, the Lewiston Public Library (less than a block away from the L/A Arts Gallery) will host a talk by the artist at 6 pm in Callahan Hall, which will be free and open to the public.
New Beginnings would like to thank our partners L/A Arts and the Lewiston Public Library, VCRHYP and the Vermont Folk Life Center who originated the project with the artist Ned Castle, as well as event lead sponsors Clark Insurance and Norway Savings Bank for helping to bring this project to Maine.
For more information about Runaway and Homeless Youth Prevention Month, HIGHLOW events, or for interview requests with the artist, please contact Rachel Spencer-Reed at New Beginnings, rachel@newbeginmaine.org or 207-795-4077.
Event Posters