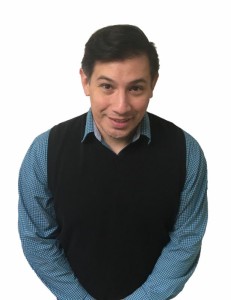 Chris "Topher" Balderas, joined New Beginnings as a Youth Worker in the Transitional Living Program in 2014. After a short break to obtain additional training and certifications, Topher was welcomed back as the Maine Transitional Living Collaborative (MeTLC) Program Coordinator. In early 2018 Topher was promoted to Outreach Program Director.
Topher, who holds a Bachelor's in Psychology and a Master's in Human Services, has worked for 12 years in the social services field including working with homeless and veteran populations.
Topher can be reached by phone at (207) 795-6831 ext. 219 or by email at topher@newbeginmaine.org.
How did you make the transition from supporting Maine's homeless LGBTQ youth to Outreach Director?
I rejoined New Beginnings in 2016 as coordinator of the MeTLC. The MeTLC is a 24month demonstration project providing comprehensive case management and housing specifically for LGBTQ youth in the three counties we serve. So by definition, we always knew that the project would end along with my role as coordinator.

I knew that I wanted to find a way to stay on at New Beginnings, so we began discussions early on in the project to explore how we could make that happen. Part of that exploration focused on the vacancy that would emerge as a result of Marc Madore's transition to Director of Mental Health Services. When the position opened, I applied.
What is happening with youth that were part of the MeTLC program?
We've already exceeded all of our targets for this project. 90% of the MeTLC youth have plans for permanent housing. We are actively working with the remaining 10% to find housing solutions.

Most of the youth who come to us are dealing with a range of challenges that require so many services. So beyond meeting the long-term housing needs of these youth, we are opening case management services for them here at Outreach to help address their ongoing needs.
What one thing gives you the most hope for the work that we are doing to support homeless youth?
This work by its very nature is incredibly hard. It can be emotionally trying. It can test
you in so many ways that you wouldn't expect.

The thing that gives me hope and confidence is our staff who continue to be present and unconditionally supportive of the youth that we serve.

We are such a strong team. We really hold each other up. If there are ever going to be challenges we will address those challenges together.

Recently I've seen that strength when a youth came into drop-in and was in immediate crisis. Our team was able to respond to that youths' needs through non-verbal cues across the floor. We were able to successfully minimize any further crisis for that youth, and just as importantly, we were able to minimize the impact on other youth at drop-in at the time.